Only 2% of Latvian companies qualify for the highest ААА® credit rating!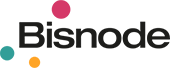 MARKETING PACKAGE FOR AAA ® CREDIT RATING

Show the certificate in Latvian, Russian and English to your clients, business partners and employees.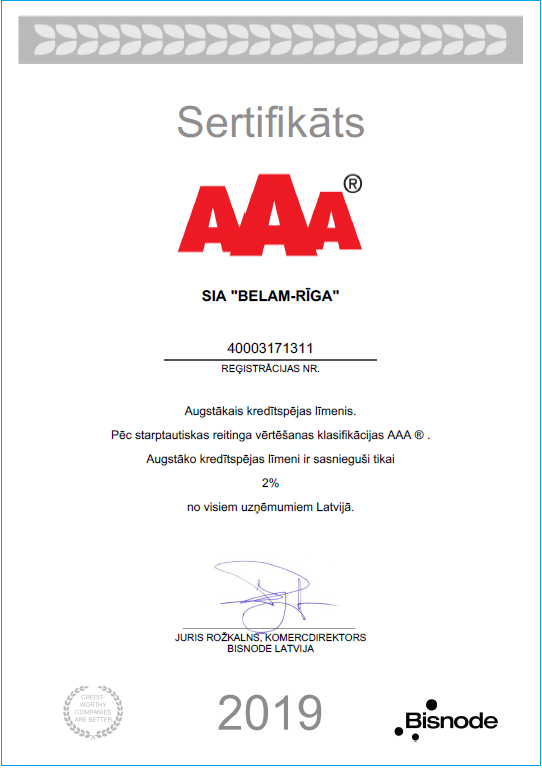 CERTIFICATE AAA®
2019
WITH YOUR COMPANY NAME
FOR PLACING IN OFFICE OR ON HOME PAGE.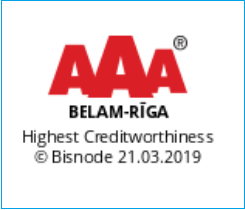 LIVE-LOGO AAA®
HOMEPAGE,
E-MAIL
The online logo shows the credit rating for the current day

WHY YOUR COMPANY SHOULD CHOOSE AAA ®?
If you use AAA certificates in your office as well as LIVE-LOGO on your website and e-mail, then you show your company as a reliable partner for customers and employees.

REITING CONFIRMS THE COMPANY'S RELIABILITY
The highest rating is only 2% of Latvian companies. AAA - means that your company has significantly better economic and financial indicators than the national average. In addition, AAA shows good credit history - the perfect payment discipline.

REITING IS EVALUATED EVERY DAY
As Bisnode renews all credit ratings every day - we are the first and only in Latvia to offer LIVE-LOGO showing current rating. Once you place it on your website (install LIVE-LOGO), the visitor will be confident about your company's current compliance with the rating! See how LIVE-LOGO looks here.
INTERNATIONALLY RECOGNIZED AAA RATING OF THE BISNOD CREDIT BUREAU
It is currently well known internationally and is used in 14 Bisnode countries. In Estonia, more than 1500 customers have purchased the certificate, in Finland more than 5000. Rating AAA or AA will provide Latvian companies with a competitive advantage in finding partners or participating in competitions in Northern and Central European countries.

CALCULATION BASED ON MORE THAN 10 DIFFERENT DATABASES
Enterprise Register, State Revenue Service, Central Statistical Bureau, Data of 5 Debt Collection Companies (Coface, Conventus, Intrum, Julianus, Paus Konsults) etc.

COMPETITIVE CERTIFICATION SERVICE PRICE
The price has been assessed according to the market prices of Latvian, Estonian and Lithuanian marketing and certification services, competition and the solvency of Latvian companies.